Andromeda Anarchia's DARKMATTERS – Release on October 5th 2018

« Andromeda Anarchia is establishing herself as an original force in the realm of progressive music, or alternative music, or… actually I'd hate to put this music in a box, because although it integrates many influences from jazz, progressive, rock and even pop, its originality puts it in a genre of its own. » (5/5″ (GHOSTLY BEARD for MUSIC TALKS)
« WOW! I have never heard anything like it! I have found my record of the year! » (PETE'S ROCK NEWS AND VIEWS, October 2018)
« C'est plutôt du rock prog pas chiant. Je dis bravo! (4/5) » (LA CHAîNE GUITARE, October 2018)
« Absolutely Fantastic! » (RUSS J EVANS MUSIC SHOW, October 2018)
« OEuvre originale certaine, parfois déstabilisante, Darkmatters devient rapidement addictive, évoquant entre autres Tori Amos ou Renaissance (le piano et la basse). » (FEMALE PROG VOICES, September 2018)
Andromeda Anarchia (vocals, compositions, lyrics)
Laurent David (bass)
Malcolm Braff (piano)
Olaf Ryter (drums)
Patrik Schwitter (sound design and engineering)

 Andromeda Anarchia's DARKMATTERS is a songwriting project, that includes 27 songs and motifs, which were written during an episode of bipolar disorder. The music reflects the intense emotions and energies, which she experienced during that time: dark, electrifying and very sensual. The intention of DARKMATTERS is to create music which gives an opportunity to the audience to get an impression of what it felt like for Andromeda Anarchia to be inside a bipolar episode; to experience intense emotions through songs and sounds: An emotional rollercoaster ride, never knowing if you are flying or falling.
Although Andromeda Anarchia does not appear as a bassist herself, the electric bass guitar is her absolute favorite instrument and she highlights it in all of her work, especially with DARKMATTERS. To her, it is the perfect embodiment of "electrified darkness" that reflects the energies, which she had experienced during her bipolar episodes. Therefore, the bass guitar has a very special presence in the songs of DARKMATTERS.
DARKMATTERS mixes elements and aesthetics of jazz, grunge, metal and pop music in a very unique and progressive way.
In connection with the song motifs of flying and falling, a special collaboration takes place between DARKMATTERS and the professional and internationally known wingsuit basejump pilot Sven Ugau (world record holder in « Wingsuit Target Punch » and WWL World Grand Prix China participant). Sven Ugau will release the song THE ANGEL'S FALL in one of his upcoming videos and DARKMATTERS will show exclusive videos of Sven Ugau during their concerts.

 DARKMATTERS d'Andromeda Anarchia est un projet qui comprend 27 chansons et motifs, écrits lors d'un épisode de trouble bipolaire. La musique reflète les émotions et les énergies intenses qu'elle a connues à cette époque : sombres, électrisantes et très sensuelles.
L'intention de DARKMATTERS est de créer une musique qui donne au public l'occasion de se faire une idée de ce à quoi ressemblait Andromeda Anarchia dans un épisode bipolaire ; ressentir des émotions intenses à travers des chansons et des sons : un tour de montagnes russes émouvant, sans savoir si vous volez ou si vous tombez.
Bien qu'Andromeda Anarchia n'apparaisse pas comme une bassiste elle-même, la basse électrique est son instrument favori et elle le met en valeur dans tout son travail, en particulier avec DARKMATTERS. Pour elle, c'est l'incarnation parfaite de « l'obscurité électrifiée » qui reflète les énergies qu'elle avait éprouvées pendant ces épisodes. Par conséquent, la basse a une présence très spéciale dans les œuvres de DARKMATTERS.
DARKMATTERS mêle éléments et esthétique du jazz, du grunge, du métal et de la musique pop d'une manière unique et progressive.
Le célèbre pilote de wingsuit et basejump Sven Ugau (détenteur du record du monde du « Wingsuit Target Punch » et participant au WWL Grand Prix Mondial Chine) a collaboré avec DARKMATTERS. Sven Ugau utilisera le titre « THE ANGEL'S FALL » dans une de ses vidéos et DARKMATTERS diffusera des vidéos exclusives de Sven Ugau lors de leurs concerts.

 Andromeda Anarchia's DARKMATTERS ist ein Songwriting-Projekt, welches 27 Songs und Motive enthält, die während einer Episode der bipolaren Störung entstanden sind. Die Musik reflektiert die intensiven Emotionen und Energien, die sie in dieser Zeit erlebte: Dunkel, elektrisierend und sehr sinnlich.
Die Absicht von DARKMATTERS ist es, Musik zu kreieren, die dem Publikum die Möglichkeit gibt, einen Eindruck davon zu bekommen, wie sich die damalige Episode für Andromeda Anarchia anfühlte und diese intensiven Emotionen mittels Songs und Klängen auf musikalischer Ebene zu erfahren: Eine emotionale Achterbahnfahrt, nie wissend, ob man gerade am Fliegen oder am Fallen ist.
Obwohl Andromeda Anarchia selber nicht als Bassistin auftritt, ist die E-Bassgitarre ihr absolutes Lieblingsinstrument, weshalb sie den Bass in ihren musikalischen Produktionen hervorhebt, besonders bei DARKMATTERS. Für sie ist der E-Bass die perfekte Verkörperung der « elektrifizierten Dunkelheit », welche diejenigen Energien widerspiegelt, die sie während ihrer bipolaren Episoden erfahren hatte.
DARKMATTERS mischt Elemente und Ästhetik aus Jazz, Grunge, Metal und Pop auf einzigartige und progressive Art und Weise.
Im Zusammenhang mit den Song-Motiven des Fliegens und Fallens erfolgt eine Kollaboration zwischen DARKMATTERSund dem professionellen und international bekannten Wingsuit-Basejump Piloten Sven Ugau (Weltrekord im "Wingsuit Target Punch" und WWL World Grand Prix China-Teilnehmer). Sven Ugau wird den Song THE ANGEL'S FALL in einem seiner Videos veröffentlichen und DARKMATTERS wird exklusive Videos von Sven Ugau während den Konzerten zeigen.
PRESS REVIEW BLOGS & PODCASTS :
Andromeda Anarchia's
DARKMATTERS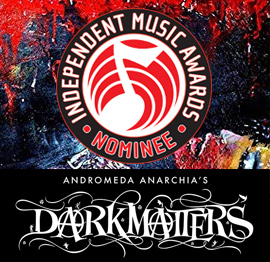 April 10, 2019: Andromeda Anarchia's DARKMATTERS is Among the Year's Most Exceptional Music Projects Nominated in The 17th Annual Independent Music Awards