KILTER – EP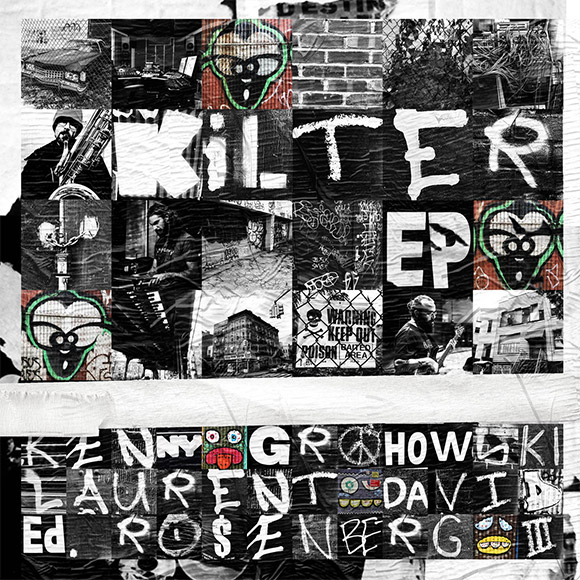 Released on 4th of December, 2018
Ed Rosenberg III: Saxophones
Kenny Grohowski: Drums
Laurent David: Bass
Recording: Peter Karl at Douglass Studios
Mixing: Scotty Hard
Mastering: Fred Kevorkian
DESCRIPTION
Directly inspired by the city of New York, KILTER's compositions are the mirror of a new spirit of jazz, nourished by improvisation, avant-garde and every other kind of extraordinary artistic expression that gets created unstoppably in this city. For this new project, Laurent David surrounded himself with two talented and open-minded Brooklyn-based musicians and composers, well-known for their eclectism and their hunger for new experimentations: Kenny Grohowski is currently playing drums for John Zorn, BRAND X and the avant-garde metal band IMPERIAL TRIUMPHANT; Ed Rosenberg III is a member and founder of JERSEYBAND.
BIOGRAPHIES
Laurent DAVID is the founder of record label ALTER-NATIV, for which he produced and developed projects such as SHIJIN alongside Jacques Schwarz-Bart, Stephane Galland and Malcolm Braff; NAKED (BASS SOLO) played on stage with guests like David Linx, Nguyen Le, Thomas De Pourquery; M&T@L alongside Maxime Zampieri and Thomas Puybasset; « Nenad Gajin/Karim Ziad/Laurent David »-Trio, THE WAY THINGS GO including musicians such as Ari Hoenig, Jerome Sabbagh, Ibrahim Maalouf, Guillaume Perret, Anne Paceo, Celine Bonacina, Thierry Arpino, Ziv Ravitz…  and many other albums.
He also toured with Ibrahim Maalouf (Golden Disc for « Illusion » adn « 10 ans de Live »), Guillaume Perret & Electric Epic (Tzadik Label), Yael Naim (New Soul: ad. for Apple company and several Golden Discs), EOL Trio (International tour), Didier Lockwood (Big Band), Jean Michel Kajdan (2 albums).
Brought up in a musical household in Miami, Kenny GROHOWSKI has been performing since the age of 14. His rich musical background is demonstrated through the growing list of his collaborators and guest artists, including John Zorn, Andy Milne & Dapp Theory, Felix Pastorius & The Hipster Assassins, Shanir Blumenkranz, Trey Spruance & Secret Chiefs 3, Imperial Triumphant, Rez Abbasi & Junction, Jorge Sylvester's A.C.E Collective, Jonathan Powell & Nu Sangha, Daniel Bernard Roumain, Bobby Sanabria, Lonnie Plaxico, Bill T. Jones, and Richie Ray & Bobby Cruz, John Medeski….
Edward RosenBerg III is a composer/performer currently residing in New York City. He studied saxophone at the Eastman School of Music, composition at Queens College and counterpoint with Paul Caputo.  He is currently pursuing a PhD in Composition at Stony Brook University. Edward has performed as a saxophonist/clarinetist/beat-boxer with a variety of jazz/rock/new-music groups including: Anti-Social Music, the Brooklyn Philharmonic, Asphalt Orchestra, Fireworks Ensemble, Talking Band, Amy Lynn & The Gunshow, Euphonique Saxophone Quartet, Ensemble Signal, Liz Roche Dance Company, and the Bottleote Music Collective in Dublin.  In 2013, Edward took up the hammered dulcimer and performed with the Metawee River Theater Company for their summer tour. Ed is a founding member of the instrumental prog-jazz-metal group, JERSEYBAND. The group has recorded 7 albums and played throughout the US and Europe. Edward also enjoys making grind-core music with Heart of Barf, and meditative drone-based prog-rock with Glue Gun Optimism and he makes children's music with his sister in The Green Orbs
August and September, 2019